By Holly Duchmann, Greater Baton Rouge Business Report
It was a trip to a local community college during her junior year of high school that sparked Kassy Giroir's drive to pursue a career in the chemical industry.
"That's when I met a female—she used to be an operator," Giroir, donned in her embroidered ruby red Shell jumpsuit, tells those watching the video of her story. It was that day, she recalls, when she decided to become a process operator.
Later in the video, under the cooling shade of an oak in Norco, she throws a cobalt Frisbee with two young boys in front of a new house.
"I recently built a home," she shares at the video's end. "I couldn't have done that without this job."
The 30-second commercial is one of five produced by the industry-sponsored initiative called Louisiana Calling. It was founded in 2013 by a group of Capital Region industry leaders who were concerned about the growing lack of skilled workers in Louisiana. Since then, the initiative—backed by donations from industry wallets—has embarked on a multi-year campaign using social media, concerts and videos to both spotlight the state's high-demand jobs and the educational pathways available to get them as well as pique interest among students.
Girioir's story, along with the other videos produced for the River Parishes region, embodies Louisiana Calling's raison d'état: You don't need a four-year diploma to get a well-paying job.
Christel Slaughter of SSA Consultants says a household telephone survey conducted by the firm at the beginning of the initiative found roughly 50% of people thought less of someone without a four-year degree. It's a stigma that she's been fighting to change for most of the past seven years. There are plenty of jobs in-state that pay well—with starting salaries at $45,000 to $50,000—that only require an associate degree or a certification.
"We know what jobs are open today in different regions," she says, "and we know what the projections are. We're really weaving that in at the local level."
The initiative officially launched in 2017 after testing the waters in late 2016 with a series of radio and television ads aired in three different markets.
Later that year, it partnered with a Southern favorite—Viacom's country music channel, CMT—and the Louisiana Community and Technical College System to host an eight-stop music tour by rising country star Courtney Cole. The Mandeville native performed at eight community colleges around the state, including Baton Rouge Community College, to promote post-secondary education. The concerts helped attract people to visit the campuses and videos were shown of Louisiana natives with interesting journeys sharing their stories on how they got a career without a four-year degree.
"Our research has shown that people wanted to hear about people like them and how they got great jobs," Slaughter says, adding they knew artistic commercials with flashy visuals wouldn't be the way this campaign. "People want to hear stories."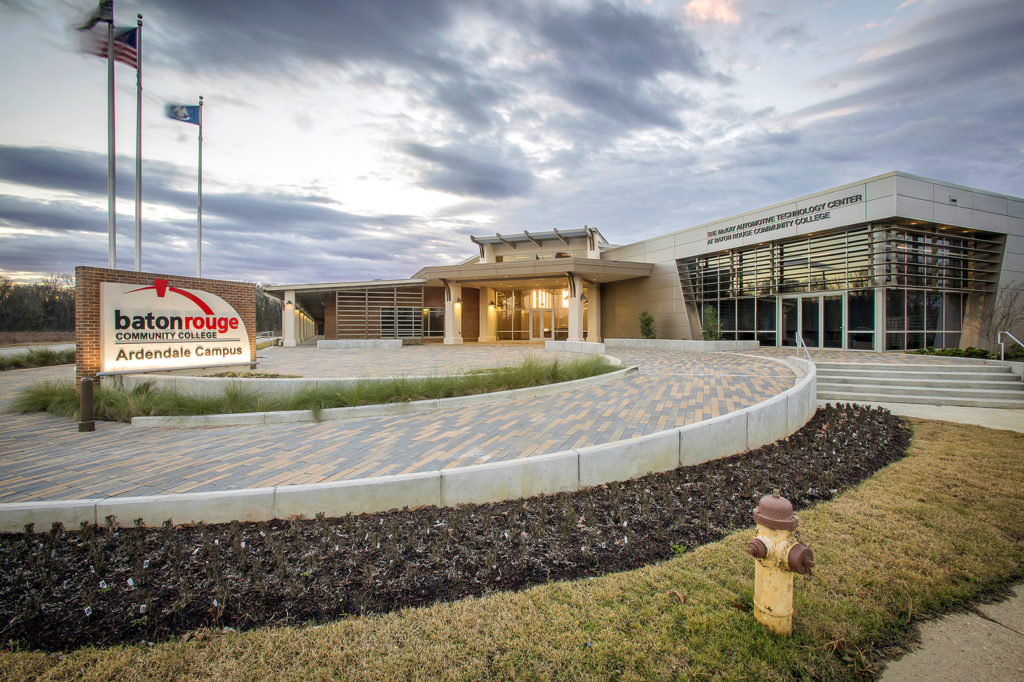 ---
To Monty Sullivan, president of LCTCS, the videos were an opportunity to showcase different career options available in Louisiana. Because of generational differences in educational attainment, it can be especially challenging for children whose parents didn't finish high school or didn't earn college credit to learn about the different paths they could embark on.
"Those people don't have role models with careers," he says. "They don't know the universe of opportunities available."
Because the initiative is trying to change attitudes, measuring results can be a bit tricky. While the initiative is statewide, the program has put a special initial emphasis on the River Parish region, hoping to boost the available workforce for that region's industrial sector.
As part of its ground game, Louisiana Calling issues surveys at each of the major high schools in the parishes it's targeting to gather a baseline understanding of what students think about jobs. The plan is for a second survey to be taken once the program matures, says Slaughter, to measure if there's been improvement from the initial results.
She also points to some statistics that imply the needle is moving toward the right direction, although she's quick to say that Louisiana Calling can't take credit for the gains.
From 2012 to 2018, the number of students who earned career-tech certifications, advanced placement credit or college credit each rose by 167%. For the same six-year period, dual enrollment and advanced career credential earning students rose by 403%. Across LCTC's 11 campuses, 8,777 students earned an industry-based certification last year. So far in 2019, that number has already nearly doubled, to 15,876.
Sullivan adds further depth to what those certifications mean to the students who earn them. After one year of work in Louisiana, those certification-wielding graduates earn $50,000 on average and those with an associate degree earn $45,000.
"The more aligned our schools are with the market and needs for employers, the better we can leverage those needs on behalf of the students," he says. "The success of people depends on the success of the business community."
After working in the River Parishes region for the past year, Slaughter says they're "getting ready to come into the Capital Region," and have already begun preliminary talks with some school districts, superintendents, community college chancellors, elected officials and different area chambers. At this point in the game, it's not about fundraising, Slaughter says; it's about getting various groups to collaborate.
They plan to recreate the 30-second videos for the Capital Region, as well as foster an ambassadors group, where companies can offer people to talk about their jobs.
"The reality is that Louisiana has a strong economy," Sullivan says. "But those jobs are limited to people with the skills and education needed to be hired. News headlines talk about unemployment rates but those aren't necessarily reflective of the skills in demand."
http://p2tomorrow.org/wp-content/uploads/2019/10/louisiana.png
65
334
Kristen
http://p2tomorrow.org/wp-content/uploads/2018/06/logo3.png
Kristen
2019-10-16 12:01:41
2019-11-08 12:03:40
Calling Louisiana to boost state's trained workforce